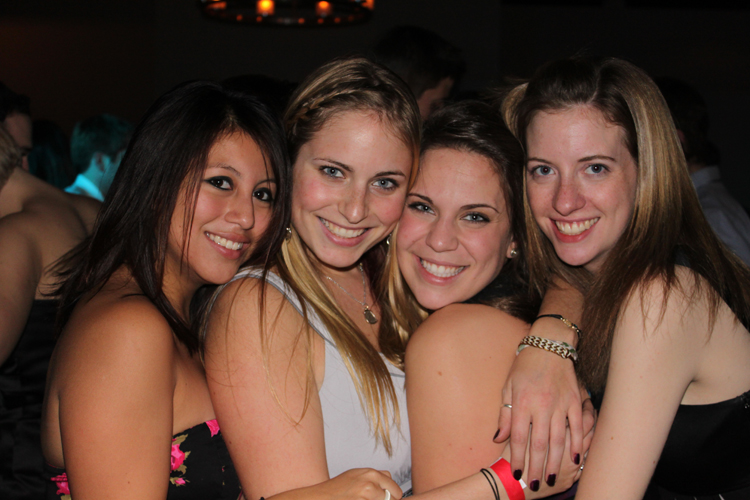 A+ Entertainment would consider it an honor to be the company your committee chooses for your Fraternity and Sorority Formals and Date Parties. We believe we are one of the areas foremost companies in music and lighting entertainment. We are big on our capability to provide the entertainment necessary for a variety of college functions.
We have the sound, lighting, lasers and fog equipment, the personnel, and the experience to entertain college students at any given event. If your affair is under 100 guests or over 1000 guests, we can provide the equipment that is appropriate for your affair. We will work with your committee to size our sound and lighting package to fit within any budget, all in order to provide everyone with a great experience.
We gladly follow music selection guidelines set by the dance committee. Once you have booked with us, we will provide a login and password to our website for your event. From our library of over 60,000 songs, your dance chairperson or committee will be able to build a playlist for the night with the selections they would like (or not) like to hear. We are here to serve you and do things your way.
If you are tired of those other companies who promise intelligent lighting packages, sound systems, and entertainment and are not what they advertise, then give us a call. Whether you go with one of our smaller set-ups or a large lighting and video package, your satisfaction is our number one goal.
Want to add that special touch? Consider our music video option. We will bring along a projector and screen to show music videos of some of your favorite songs. Your guests will be impressed. Or even add our Photo Booth. We bring the old fashion 4 photo strip carnival photo booth right to your celebration. It is the latest thing at parties and it is a great addition to your event. What college student does not like to get their picture taken and have the added bonus of a printout to take home? Get your sisters and brothers in and make some funny faces that everyone will get a laugh at. Every guest will have a great time with it. It can even be customized with a special logo that is unique to your event! This could include your chapter name or your Greek letters! There are two different printout options from which to choose. Just visit our Photo Booth rental page to find out more information.
For more detailed information about the different sound and lighting packages we can provide, we would be happy to make a presentation to the dance chairperson and committee. Do not hesitate to give us a call if you have any questions, would like any additional information or to set up an appointment for a presentation. We also offer a discount for booking more than one event with us! We look forward to hearing from you and making your event memorable. Thank you very much for considering A+ Entertainment.
For more information call us at (267) 932-1300 or Contact Us.