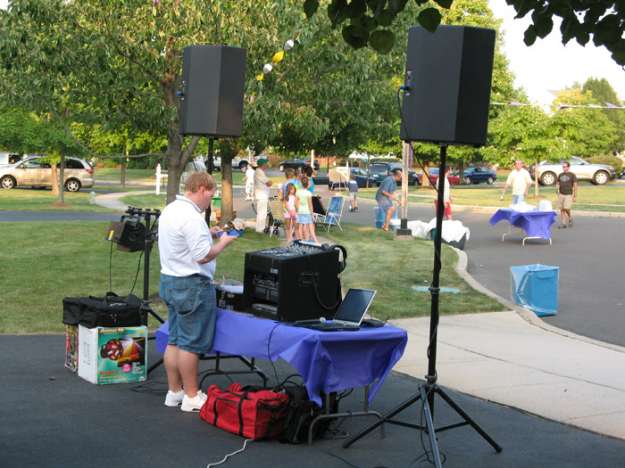 We hope that you'll consider A+ Entertainment for your next neighborhood event. We have all the standard songs such as the Twist, YMCA, Chicken Dance, Old Time Rock & Roll, etc. as well as some of those hard to find tunes! Song requests are encouraged. We love to play what you want to hear. Once you have booked a party with us, we will provide a login and password that will give you the capability to build a playlist online from our library of over 60,000. You will also have the capability to request input from your neighbors and friends.
Sometimes you need more than just music for entertainment. With A+ Entertainment we offer over 30 games that can be played at most block parties. We'll entertain you and your neighbors for as few as two hours and play as long as you would like. Our DJs can bring their own tables if necessary. We only require that you provide a safe area for DJ set-up, and 110 volts of power.
A+ Entertainment has been DJing block parties for over 10 years. We'll make any announcements needed, including eating times, special events, birthday wishes, as well as anniversaries and winners of random drawings, etc., etc…
We've got trivia contests, line dance prizes, hula-hoops, limbo sticks, burlap-race bags and much, much more! We'll keep everyone entertained for hours! Don't forget the KARAOKE! We can also bring Popcorn, Sno-Kone, and Cotton-Candy machines! We even bring the supplies. Want to make it really fun? Add an outdoor movie for that old fashion drive in movie experience right in your back yard. Check out our outdoor movie page for more information.
A great addition to any party is a Photo Booth. It creates an old fashion photo strip favor for your guest to keep. Who does not like to get their picture taken and have the added bonus of a printout to take home? Previous guests have had a great time with it. There are two different printout options from which to choose. Just visit our Photo Booth rental page to find out more information.
We hope this page helps you consider A+ Entertainment for your next block party. Please call with any questions you or your committee may have. Pricing will depend on the duration of your party and the options you prefer.
For more information call us at (267) 932-1300 or Contact Us.