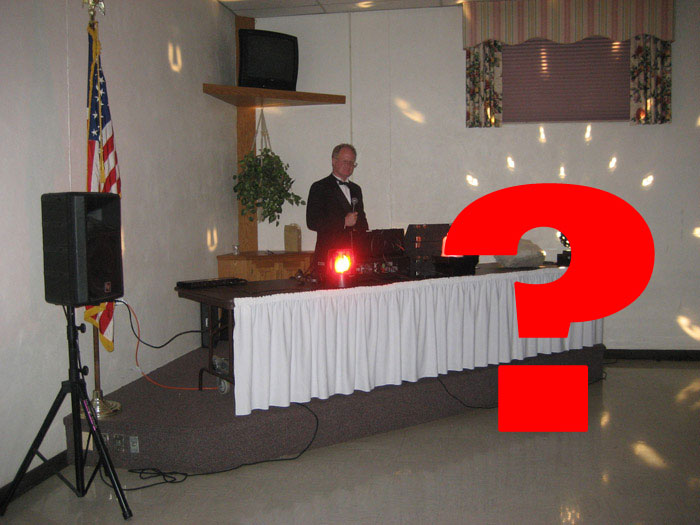 We have displayed some common questions with the responses below about our services. If your questions or concerns are not addressed please call us (267) 932-1300 or use the Ask A DJ or Contact Us form for more information
What is a Disc Jockey/MC?
A+ DJ's are experienced, detail-oriented music specialists who possess an outgoing personality. They are skilled at crowd motivation and will keep your guests involved throughout your event using just the right mix of music, dance, and audience participation. A+ Entertainment DJ's will create the party atmosphere you prefer, whether you prefer elegance and refinement, high energy and excitement or something in between.
When will my Disc Jockey arrive at my event and are there any setup or breakdown fees?
A+ DJ's will arrive approximately 45 minutes or more prior to the start time of your event. This allows sufficient time to unload, setup and sound check. There is no charge for travel time, setup or breakdown.
What types of music will my Disc Jockey play?
Our DJ's will have an extensive selection of music of over 60,000 songs. We have everything from the big band to today's top 40, so there is something for all age groups. With our online playlist builder, the customer can if desired, prebuild a playlist for the event.
What is the Booking Process?
We hope you'll want to book A+ Entertainment for your wedding reception or any other event that you may have. Give us a call to see if we are available on your date. Once we get all the information for your event we will email you our Agreement of Services. All you have to do is return one signed copy with your deposit. You may pay by check or we accept all major credit cards. Upon receipt of the signed Agreement and your deposit, we will reserve your date and time and send you a confirmation email letting you know we received it.
Do You Provide A Written Agreement?
Yes. A+ recognizes that it is very important to confirm your booking in writing. Terms are clearly defined in the entertainment contract, so we both know what to expect.
Are You Insured?
Yes. We carry liability and property insurance. DO NOT book a DJ that does not have this as many locations require proof of insurance. A+ Entertainment can submit a copy to the location if desired.
Do You Have Backup Equipment and DJ's?
Yes. We have backup equipment to ensure your event continues in the rare event of an equipment failure. We have a staff of DJs and you can be sure that you will be in good hands in case of an emergency. This is also a big reason in why we get to each venue at least an hour early.
Is Your Equipment of Professional Quality?
Yes. We use professional DJ industry top-of-the-line equipment from manufacturers such as Electro Voice, Chavuet, JBL, Numark, Shure, American DJ, etc.
Will You Listen To My Music Suggestions?
Yes. Absolutely, yes. We give each client an account on our website that provides each party host the capability to make song suggestions through our online music database before every event, which allows the client to specify specific requests, what music we should play, and what music we should not play or particular songs they do not want played.
Will You Dress Appropriately at My Affair?
Yes. When booking A+ Entertainment, we ask that you indicate the DJ's attire. Our DJ's will dress as well or better than your guests. Typical attire is a tuxedo, suit & tie, polo and slacks, or polo shirt and shorts for warm weather outside events.
Will You Play The Music At An Appropriate Level?
Yes. Our professional DJs know to keep the volume at an appropriate level for you and your guests during cocktails, dinner, and dancing hours. It at any timer your feel an adjustment in level is needed, all you have to do is mention it to the DJ and he will be happy to oblige.
Do You Do More Than Just Play Music at the Affair?
Yes. Many affairs involve more than playing music.A+ Entertainment DJs are capable of playing the music, handling all of the announcements and helping to coordinate the affair. In addition to these activities, our DJ's will bring a set of dance lights and a full repertoire of games that are appropriate for all ages. We can also bring a projector & screen for music videos or a slide show presentation.
Will You Listen to My Concerns and Input?
Yes. We know that you know your guests better than we do. We happily work with you to ensure you and your guests have the best entertainment possible. Your input and suggestions are always welcome.
Does the company employ more than one DJ?
Yes. We employ several experienced DJ's. This ensures that there will always be a DJ at your affair to provide the contracted entertainment.
Will A+ DJ's travel out of state?
Yes. Being that we have DJ's located in areas around Philadelphia and in Newark, DE we service South Eastern Pennsylvania, New Jersey, and Delaware.
Do you have a Demo video of Events Performed?
Our website has several video's that can be viewed anytime. A+ Entertainment would be happy to put together some video clips specific to the event in question and mail it. Secondly, we have a list of references that would welcome a call to discuss our service. You can also check our testimonials page. It is updated on a continual basis.
Is the DJ flexible enough to match the theme of the event?
Yes, A+ Entertainment will custom tailor our service to be just the way you choose. Not every event has to be done the same way. You may want to add something different or not do some of the old standards, it's all up to you.
Are you going to talk a lot at my event?
The only talking that we will be doing is for the announcements that you want us to make; to lead any dances or to lead games or whatever is necessary to MC your event. Our experience has taught us to let our music do the talking. We want you and your guests to be the center of attention, not us.
Are you going to make us do silly games?
No, not unless you want to. We do have some different and unique games that we offer, but we will go over all of that when we discuss your event details. There will be no surprises at your event. The last thing we want to do is make you uncomfortable at your event. We also make sure the games are age-appropriate.
Will you be set up on time?
Yes, that is guaranteed as long as we are provided access to the venue at least 45 minutes prior to the contracted start time. Our DJ's show up approximately one hour or more before the start time. This provides the necessary time to setup and do a sound and lighting check, and meet with anyone necessary.
Do you have any hidden charges like some other companies do?
No, our pricing is all inclusive. There are no set up or break down fees, travel charges, or taxes!
After we sign with you will we be able to contact you about our event?
Yes, we will are more than happy to work with you every step of the way. We will answer any questions that you have. Remember the only dumb question is the one that you don't ask. We want to ensure you are completely confident in the service you will receive.
Will you do a theme wedding, or do you just do traditional weddings?
We are willing to work with you for what ever type of event that you want to have. It's important to us that your event is done the exact way that you want. We remember the most important thing, we work for you and complete customer satisfaction is our #1 goal!
Should you tip the DJ?
This is neither necessary nor expected but if you feel your DJ did an exceptional job and you would like to provide some additional compensation, they are always appreciative of anything extra offered.