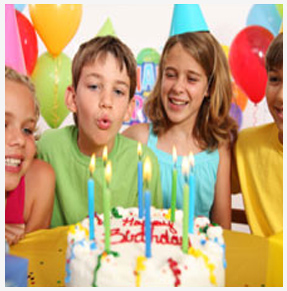 Over the years, A+ Entertainment has supplied entertainment for hundreds of birthday parties. This experience, as well as our commitment to customer satisfaction, has enabled us to exceed many of our clients' expectations. Whether you are celebrating a Sweet 13, Sweet 16, 30th, 40th, 50th or even a 90th birthday, we have the music and equipment to make sure its a success.
At A+ Entertainment, we continually update our music library to always maintain your most current favorites. Teen parties are one of our most frequently booked events. Our DJs are experienced in the art of beat mixing heard on numerous dance and hip-hop CDs. We have over 60,000 titles in our music library to satisfy any of your guest's requests. Our DJs can interact with your guests as much or as little as you would like. They can teach all of the traditional party dances as well as play the latest dance hits.
Equipment alone does not make your event a success, but our state-of-the-art sound and light shows allow us to provide your guests with crystal clear music at any volume level, as well as adding dazzling lighting effects. Our equipment ranges from small compact systems to large MTV style programs. You will find we have one of the top lighting systems available in the area. We are fully licensed and insured, and have back up equipment available in the unlikely event it is needed.
We can bring along Karaoke for those individuals that like to entertain their friends and relatives or we can add to the fun with props such as maracas, tambourines, shakers, leis and YMCA hats. Looking for more than just music, we can play up to 30 games to meet the needs of any age group. We have got all types of family favorites as well as new ways to have fun at any birthday party. To add to the enjoyment, we can supply carnival food items like cotton candy, sno-kone and popcorn machines.
A great addition to any party is a Photo Booth. It creates an old fashion photo strip favor for your guest to keep. Who does not like to get their picture taken and have the added bonus of a printout to take home? Previous guests have had a great time with it. There are two different printout options from which to choose. Just visit our Photo Booth rental page to find out more information.
A+ Entertainment, we offer a caring and professional attitude that puts your style and feelings first. Just let us know how we can help.
For more information call us at (267) 932-1300 or Contact Us.