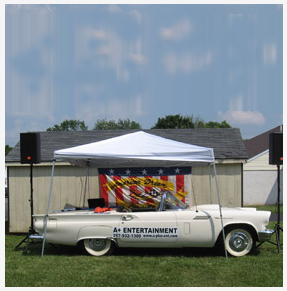 A+ Entertainment definitely has a love for both cars and trucks and so do the people that build them. We have entertained the Doylestown "Road Angels", at the Dublin car / truck shows, and at the Gilbertsville Ambulance Car Show. If you would like us to emcee your next roadster, muscle car or truck event, just call and we'll give you special pricing for all day shows. A+ Entertainment boasts one of the biggest sound systems in the area. Whether it be 2, 4, or 6 speakers, we will be happy to make any and all announcements such as raffles, promo's, and advertiser IDs. We are sure to delight car and truck enthusiasts of all ages.
Want to add that special touch? We would be happy to bring along our white '57 Thunderbird – like the one used in American Graffiti or our 1969 Cougar XR7!
When it comes to planning your upcoming Monster Truck or Oldies Car Show, we'll be happy to assist you in any way possible!
For more information call us at (267) 932-1300 or Contact Us.